As an information security professional, it's important to stay up on the latest trends. One great way of doing so is to attend conference and meetings and learn from your peers thru the presentations, panel discussions and just networking and chatting.
Here in the South Florida area (Miami-Dade, Broward, Palm Beaches) there are several opportunities for such, but sadly, too many don't take advantage of them. Here are some to keep in mind for the coming year.
Organizations/Meetings:
Here are some groups to consider joining and attending their events.
South Florida ISSA Chapter
. This chapter meets monthly, the third Thursday of each month, usually at Nova Southeastern University in Davie, but sometimes in Boca. They have an annual "Hack the Flag" event, and a biennial conference. The chapter is diverse, having everyone from students and those getting into the field, up to C-level folks.
South Florida Infragard Chapter
. This chapter meets monthly, but don't have a set day/time. They try to rotate at different locations in the 3 counties. Their interest is wider then just information security, so some meeting topics may not be of interest. This group is sponsored by the FBI, and as such, members must go thru a background check, which may prevent some from joining. They usually have more senior level people involved.
HackMiami
. This group is more "hackerish", but are composed of security professionals & researchers, either working for some of the local companies or independently. They host a biweekly
Meetup event
at the Cyber Pizza Cafe in Dania Beach, and an annual conference. Check them out as they may have talks that will interest you.
There are also more specialized groups, like the South Florida Chapters of OWASP and Cloud Security Alliance.
Conferences/Events:
Hack Miami Conference
. Coming up in May, a 2-day conference on the weekend. See my prior posting on it.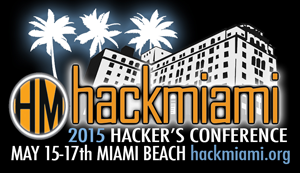 SFISSA Hack the Flag
. Coming up in August, this annual event of the SFISSA Chapter is a Hack the Flag event with 2 games, one for beginners & one for advanced folks. As usual, there will be a chili cookoff and a lockpick village. This will also be the chapter's 15th Anniversary event, so they plan on making it more "family friendly" with other activities. Registration is already open on Eventbrite.
National Cyber Security Awareness Month
. This comes up in October of each year. NSU's
Graduate School of Computer and Information Sciences
will have several presentations tied to this event, some in conjunction with groups like Infragard and SFISSA.
DataConnectors
. These are technology security conferences/tradeshows held around the country. They also have technical presentations, so people can get CPEs for their certs. The one for our area will be coming up in
Ft. Lauderdale on November 5th
. Registration is already open on Eventbrite.
ITPalooza
. This annual IT gathering/holiday party will have its fourth one this December. Probably held at NSU again. In addition to vendors and various user groups, there will be presentations. Word is that the SFISSA Chapter will be asked to coordinate the infosec ones. We will probably be reaching out to our fellow infosec orgs in the area for input.
I will be posting more about some of these upcoming events, as well as posting reports on them afterwards.